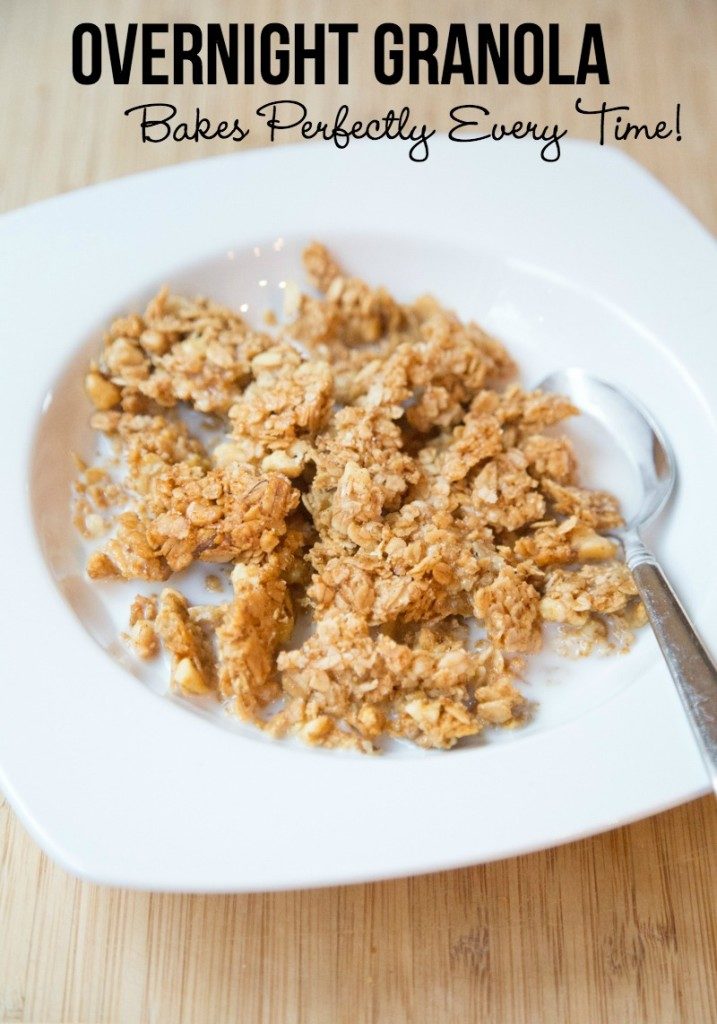 You know what bugs bugs bugs about homemade granola….
You have to either turn it and toss it in the baking dish 3-4 times while it's baking. Or you have to let it brown-even burn around the edges of the baking dish.
You're either babysitting it while it's in the oven…or it turns out "meh" with burned edges.
The solution is "Overnight Granola."
No…you don't bake it overnight. Well, not really…but kinda sorta. You bake it for 10 minutes, then turn off the oven and leave it to finish baking as the oven cools down.
End result.
NO BURNED EDGES.
And you didn't have to babysit it (other than pressing the button to turn off the oven.)
Then, in the morning…you pull it out, break it up and serve it with milk or yogurt or in a parfait or just straight off the pan.
CRUNCHY DELICIOUSNESS AWAITS YOU!
***I apologize for the technical snafu…the Facebook live stream was cut off in the middle of making this, so I'm put the 2 videos below. Watch the top one first, then the second one!
It turns out perfectly every.single.time!!! Enjoy!
Overnight Granola Recipe
Adapted from: Honey Nut Granola in my Breakfast & Lunch Cookbook
Yield – 12 breakfast servings
Preparation Time – 10 minutes
Cooking Time – 10 minutes
Ingredients
1/2 cup oil or melted butter
2/3 cup honey
1 tsp vanilla (or use homemade vanilla extract!)
2 1/2 cups quick cooking oats
2 1/2 cups rolled oats
1 Tbsp cinnamon
1/2 tsp ground ginger
1 cup chopped nuts, like walnuts or almonds
Milk or yogurt, for serving
Fresh fruit, on the side or mixed in
Directions
Preheat the oven to 325. Spray 2 rimmed cookie sheets with non-stick cooking spray.
In a small mixing bowl, whisk together the melted butter or oil, honey and vanilla.
In a larger mixing bowl, toss together the quick cooking oats, rolled oats, cinnamon, ginger and chopped nuts.
Pour the honey mixture over the oat mixture and mix together. Spread the granola onto the prepared cooking sheets and press to cover the bottom. If there is a little empty space on the cookie sheet, that's ok. You just want the granola not to be too thick in places and even all around, so it cooks evenly.
Place in the preheated oven and bake for 10 minutes. Then turn off the oven after 10 minutes and let the granola finish cooking as the oven cools down. It's ready to eat the next morning. Use a metal spatula to loosen and break the granola into chunks for serving.
Serve Overnight Granola with milk or yogurt and some fresh fruit.
Do you "HIT A WALL" in the late afternoon, just when it's time to prepare dinner?! There's a reason…and I show you how to get around that in the My Efficient Kitchen online class! It's self-paced and you can go through the lessons at your own convenience, too. Learn more and register here!